Saturday October 20th was a busy day on at the New Balance fields. These three fields sponsored by WA alumni, held the Girls Varsity, Boys JV and Boys Varsity Soccer games. Starting at 11am there was a tailgate sponsored by the Girls Varsity Soccer parents. The girls came away with a gritty 1-0 win against Marianapolis, outshooting them 23 to 3.
There were many familiar faces at the fields including, Rachel O'Keefe '19 now a Freshman at New York University, Mr. Thorn the retired JV boys' soccer coach, Varsity Golf coach, and respected art teacher of many years, and former boys' soccer player Gregorio Barilla now playing for Boston College and brother to current senior soccer player Gualtiero.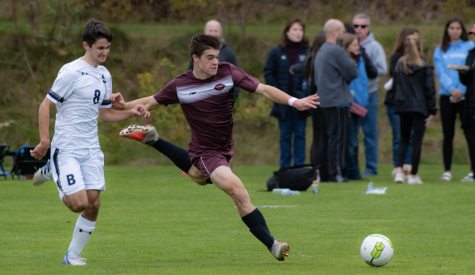 The Boys Varsity soccer team left Newton Country Day in the dust with a 5-0 victory. Right from the whistle the Worcester boys dominated the possession. A beautiful combination through the midfield led to Ethan Boileau's 10th goal of the season and first goal of the game. Senior captain Graeme Logan, just three games in from his back injury, put away a powerful shot from 
the right side of the box, and he later had a beautiful assist to Gualtiero Barilla, putting the team up 3-0 at halftime. In the second half junior Carlton Steinberg, showed his ability to execute with a tactical goal and marvelous assist to Gualtiero for his second goal of the match. Keeper Alex Wood concluded the game with a clean sheet, as he usually does, providing huge reliability in the net and security to the boy's squad. 
It is fair to say, the Hilltopper men's soccer team are playoff contenders, and with their high level of play developing further each game, they have a real chance for a championship.