The Worcester Academy Girls Varsity Field Hockey team had quite the busy weekend. On Friday, October 5th, they battled at home against a strong Dana Hall squad. A huge win for the Hilltoppers, as junior Alexis Cagan finished with two goals. A third goal, solidifying the win, came late in the game by senior captain Grace Mcshea. The team's stellar defense, Mikayla Landers and Lauren Potvin, reduced Dana Hall's offensive game to a minimum, allowing for an outstanding shut out performance by senior captain and keeper Olivia Valery.
The Hilltoppers were back on the road Saturday. Although they were missing six starters due to injuries, it was quite the impressive show out for the remaining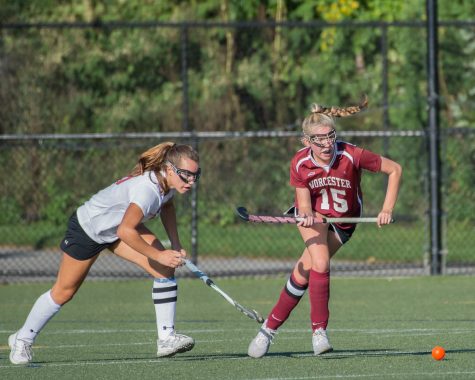 players; they pulled out with a 5-2 win against Wilbraham and Monson. Another amazing team performance for the ladies, exemplifying their determination. Eighth grader Alli Gray stepped up immensely in the absence of several starters, showing Worcester Academy's resourceful depth. Once again, Alexis Cagan put WA ahead early in the game. However, Wilbraham returned two goals, putting them on top at the end of the first half. Showing no signs of exhaustion, the Worcester girls were able to respond with three more goals. Two of these came from Alexis Cagan, assisted by the nifty Gracie Bruno. Meanwhile, Mikayla Landers and Tess Harvey worked hard to keep Wilbraham out of the attacking third. The weekend finished off with the McShea sister duo, as senior captain Grace assisted her freshman sister Claire in the team's fifth and final goal of the game.