On My Block first premiered on Netflix in 2018. Since then, there have been a total of 4 seasons released. Each season has about 10 episodes that are 30 minutes long and stars leading actors Diego Tinoco (Cesar), Sierra Capri (Monse), Jason Genao (Ruby), Brett Gray (Jamal), Jessica Marie Garcia (Jasmin), Julio Macias (Spooky), Peggy Blow (Abuelita), and many more.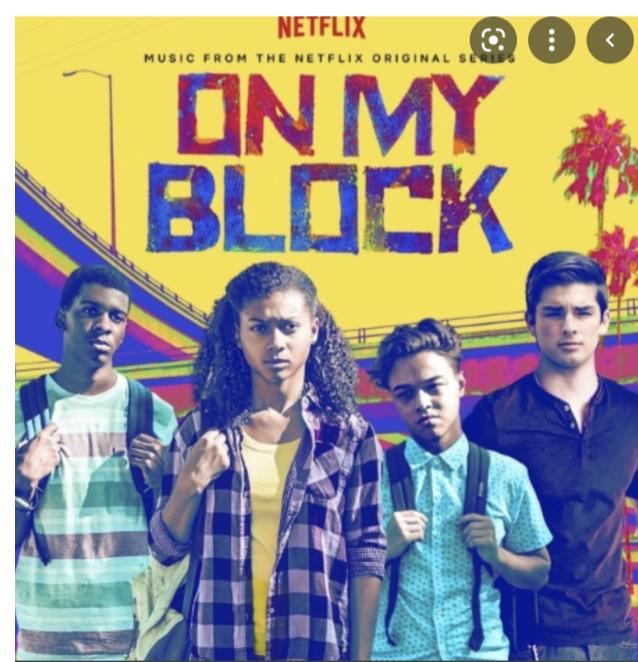 The show centers around a group of high school students who live in a heavily populated area, where gangs are in charge. It explores their friendship through being separated from each other, kidnapped, gangs hunting them, as well as being shot at. The story begins when Jamal starts to search for "Roller World," which is money that was laundered in the 80s by the Prophets (the Black gang group). The friend group decides that if they were ever to find the money, they'd split it four-ways. Each one of them is in need of money, but primarily Cesar. Cesar's family is known for being a part of Los Santos, which he does not want to be a part of. His brother Spooky is one of the leaders of the group. His plan is to use the money to make his own living away from Freeridge, so that he does not have to constantly look over his shoulder in fear of the Santos. 
There is only so much that people know about Rollerworld, so Ruby's grandmother, Abuelita, starts to help out the kids. She would give them rides wherever they needed to go and tell them as much as she knew. The strongest relationship in this show is Jamal and Abuelita's friendship. Season 4 takes place two years after season 3, when the friend group is no longer a group. Abuelita hates to see the friends not be friends, so she decides to make them believe that people are after them. By doing this, she gets to see Jamal again. When she sees him again she is angry with Jamal for not visiting her. He later finds out that she has become sick, and she says to him, "You gave me the will to live."
On My Block is about family, friendship, and long-lasting bonds, and, from the first second of the show to the very last, viewers will be laughing along. It shows people that friendships can lead to family. That a tragic event is not necessary to bring you close to each other,  just having fun will. Our differences are what make us special and unique. There are also many realistic references to what a Latino household is like as well as the reality of how the teenage years are. 
By the end of the show, the friends are reunited. They are having a party in Ruby's backyard, where they see four heads peek over the fence, which reminds them of themselves in their freshman year of high school. They look at the four faces remembering all the good times they had and will continue to have with each other. Since people are not getting enough of this show, Netflix has decided to create a spin-off series, with the four people who were peeking over the fence at Ruby's backyard.