Do you love the sweet and delectable taste of Mediterranean food? Would you enjoy building your own signature wrap or bowl? Well, you have come to the right place. Foodbeat Mediterranean Grill on 667 West Boylston Street in Worcester, Massachusetts, has a wide variety of meats, toppings, hummus, and sauces to complete your wrap, bowl, or salad to perfection. In addition to their savory selection of lunches and dinners, you may choose from a menu of smoothies, other beverages, homemade pita chips, hummus, and a dessert to compliment your meal.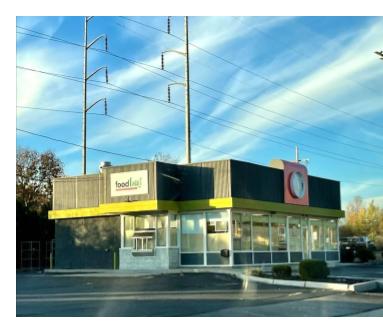 So far, I have gone in person several times,  and all of my encounters have been sublime. As soon as I walked through the glass doors, I was welcomed by the owner and his employees, given time and space to process the menu, and taken through the ordering process step by step to make sure my wrap was personalized to my liking. A specific moment that showcases the owner's kindness was when he offered us a free falafel to try on our way out and asked for our honest critique on the treat. He was also incredibly informative on what sauces he enjoyed and what flavors would work best together in our wrap or bowl. 
In terms of food, the portions are large, and the flavors are incredible. My usual order consists of the Garlic Chicken Wrap, filled with grilled chicken, mixed greens, tomatoes, pickled cucumbers, and a delicious garlic herb aioli. In my opinion, it is the perfect amount of ingredients in a soft pita bread blanket; the bitter tanginess of the pickles really enhances the other components of the dish. The garlic herb aioli, in particular, is my personal favorite; it has a sweetness that pairs well with the garlic accents. Off to the side of the main assembling station is a shelf of freshly baked pita chips and a fridge full of lemonades, homemade hummus, and desserts. Paired with either the traditional or hot pepper hummus, the buttery pita chips melt in your mouth. And let me just say, the baklava is just as incredible. It has a perfectly flaky texture with sweet and powerful hints of either pistachio or walnut, and I encourage you to try both flavors! 
Unlike other mediterranean places in Worcester, Foodbeat Grill has a drive through. It enhances convenience and creates the "on the go" access you may be looking for in a food service. To order online, their phone number is 774-530-6941, or check out the link pasted at the end of this article. Again, Foodbeat Mediterranean Grill can be found on 667 West Boylston Street, and is open 10am-9pm on Mondays through Saturdays and 11am-7pm on Sundays. For additional information and to order food online, check out foodbeatmedgrill.com.
I hope you will find some time to visit and spread the word about Worcester's wonderful gem.