Down the hill from our very own campus is Water Street's hidden gem, Suzette's Crêperie & Cafe. Relatively new to the Worcester area, Chef Jean-Luc can be found cooking up a mouth-watering storm. With a beautiful menu of both sweet and savory crêpes, freshly baked macarons, and rich coffees, you will find yourself feeling closer and closer to the city of love with each bite you take. 
Jean-Luc's story begins in France during the 70s, watching his mother prepare sugary crepes. According to Jean-Luc, he made his first batter at age 8, his first crêpe at age 10, and mastered the perfect flip at around age 13. His knowledge of the "versatility" of crêpes grew alongside him, and his Dad welcomed him to try the more savory aspects, introducing him to new flavors such as cheese, sausage, peppers, and other combinations. He also experimented with nutella, his grandmother's homemade jams, apples, and other sweet fruits. After arriving in Massachusetts in 2011, he knew he wanted to pair his French tradition to a more American environment. All he needed was the perfect place to follow through with his dream. I couldn't be more grateful that his wife and business partner, Evelyn, proposed hosting his shop in the canal district. The full extent of Jean-Luc's story, his carefully crafted menu, contact information and business hours can be found at this website: https://www.suzettecreperie.com.
I have been fortunate enough to visit several times during our lengthy quarantine and, although I have only tried the sweet crêpes so far, the flavors were mind-blowing. From my experience with the sweeter crêpes, they set a good example for all of their bakes and I'm sure the savory ones would be just as amazing. During my first visit, I decided to stick with the classic "Meli-Melo" crêpe: a light and thin batter cooked until golden brown stuffed with the perfect amount of nutella, strawberries, bananas, whipped cream, and a slight twist to the old classic nutella, the addition of almonds. On my second visit, I decided to branch out and try the "Suzette". With a similar batter, this crêpe was filled with fresh and sweet orange marmalade which contrasted well with the pleasant almond paste. Overall, the flavors of both crêpes felt like a symphony in my mouth and I may have to make it my goal to go back and try a new flavor combination each time I visit. 
In terms of service, each crêpe is made right in front of the customers. It is certainly an intriguing experience to watch the masters at work. The owner, Jean-Luc, can be found roaming the store, whether it be making the actual crêpes, handing out macarons, or sitting at a table doing work on his computer. He always makes a point to chat with his customers and ask how they like their meals. The environment of the actual restaurant itself is very clean, minimalist, and comfortable. With french music playing and the smell of freshly-made food, the space is overall very refreshing.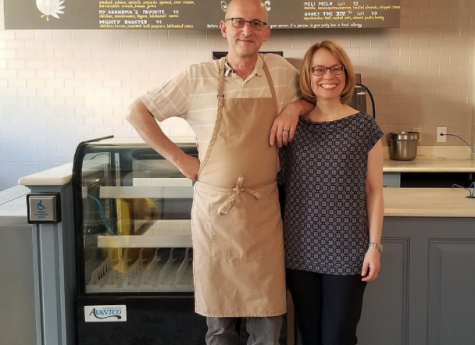 Again, Suzette's Creperie & Cafe can be found at 126 Water Street. They also service pick up and delivery as needed. Most crêpes can be made either vegan and/or gluten free, and if you have any other dietary restrictions, I am sure they will be very cooperative and understanding. If you have any questions, feel free to ask me about my experiences or ask the restaurant directly at 508.282.5212 or [email protected]. 
If you get the chance, I highly recommend stopping by Jean-Luc's authentic crêperie.