How Sustainable is WA?
Worcester Academy makes many efforts to foster a clean and sustainable campus, but I was interested in seeing just how good our school is at maintaining environmentally friendly conditions.
Before analyzing any specific programs or statistics, I decided to ask a few students on campus how sustainable they think our school is on a scale of 1-10 and what the first sustainability-related initiative that comes to mind is. Out of the 5 students I interviewed, including Nadia Gauthier, Lily Mikolajcak, Rohan Krishnan, and two others who decided to remain anonymous, 3 students rated WA sustainability efforts at a 7, one at a 6, one at a 5, and one at a 3. For the second question, 3 students mentioned the WAGON program to provide the hungry with leftover food, 1 mentioned composting, 1 mentioned recycling and the Sustainability Award given to the varsity baseball team for tree planting (more on that later), and 1 mentioned trees being made into benches (note: some people mentioned more than one initiative). As the answers show, there is some general consensus on the most popular initiatives, but students seem to be somewhat divided on how sustainable our school really is. 
Asking "Is our school committed to sustainability?" is a very tough question to tackle. There are a plethora of factors that contribute to our assessment of sustainability; however, for my purposes and analysis, I am choosing to focus on four different sectors: energy consumption, paper usage, club initiatives, and dining hall/ student center café sustainability.
Energy Consumption and Renewable Energy Sources
Per year, Worcester Academy requires around 2,000,000 kWh of energy. To put that into perspective, the average US household in 2017 used 10,399 kwh annually; WA uses more than 190 times that amount. Even though this might seem like an incredibly large number, our school is composed of many buildings– around 8 on campus and several more off campus, like the Performance Center, locker rooms at Gaskill Field, and the ice rink for hockey teams, to name a few. Although using this energy is necessary to keep our school running smoothly, many individuals were concerned about our substantial carbon footprint. This resulted in a new plan that started in 2010: solar panels for energy. 
That year, WA partnered with Nexamp, a local solar panel installation company, to add a 93 kW solar pv system to the roof of Daniels Gymnasium, Stoddard dormitories, and Heydon dormitories, generating 100,000 kWh of energy a year– about 5% of energy demand.
What happened to the remaining energy though? Is it exclusively powered by natural gas, coal, or nuclear- as 82% of Worcester, Massachusetts is? Until 2017, it was. That year, we began another partnership with Nexamp for solar net metering credits by 3.9MW total of pv solar capacity from 3 different sites in Worcester County. Together, these sites produce over 1.7 million kWh of energy annually, and for those who are curious, we can monitor daily, weekly, monthly, yearly, and lifetime energy usage for each location.
Below you can see examples of yearly energy usage (in kWh) for each solar panel site and specific values for the month of highest energy production. These solar panels are both helping protect the environment and helping our school save money– approximately $115,000– which can be used to fund many other programs in our school.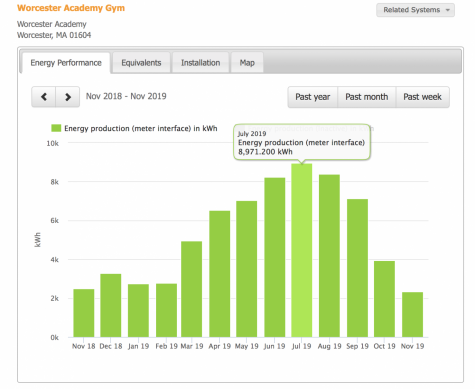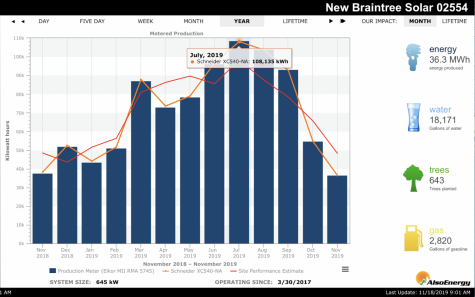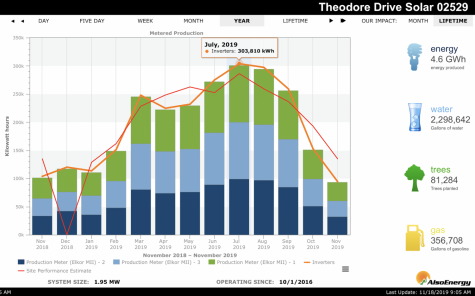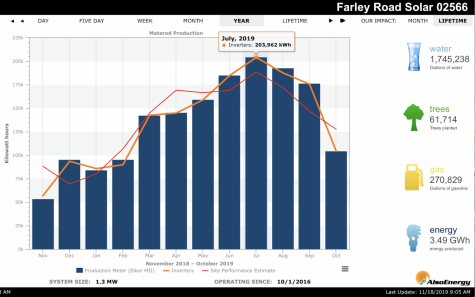 Paper Consumption
Besides considerable energy consumption, Worcester Academy uses what could be called "copious" amounts of paper. To investigate this, I emailed Mrs. Mary Fenner, who works in the Upper School Office. She is responsible for school paper orders, and she generously sent me paper orders for the last year.
The data below spans from August 21, 2018 to July 20, 2019 and shows paper orders of Aspen recycled paper, 8.5 inches by 11 inches. Each case ordered contains 10 reams of paper and each ream has 500 sheets of paper. The data below does not include legal size paper- paper larger than legal size- and colored paper. 
Table of Paper Orders by Upper School Office To Date 
| | | | |
| --- | --- | --- | --- |
| Date Ordered | # of Cases  | # of Reams | # of Sheets |
| August 21, 2018 | 8 | 80 | 40,000 |
| September 6, 2018 | 8 | 80 | 40,000 |
| October 2, 2018 | 8 | 80 | 40,000 |
| October 26, 2018 | 6 | 60 | 30,000 |
| December 3, 2018 | 6 | 60 | 30,000 |
| January 10, 2019  | 6 | 60 | 30,000 |
| January 29, 2019 | 5 | 50 | 25,000 |
| February 19, 2019 | 5 | 50 | 25,000 |
| March 8, 2019 | 3 | 30 | 15,000 |
| May 2, 2019 | 6 | 60 | 30,000 |
| May 21, 2019 | 4 | 40 | 20,000 |
| July 30, 2019 | 6 | 60 | 30,000 |
| Total from 8/21/2018 to present | 71  | 710 | 355,000 |
For comparison, the average school uses 250,000 pieces of paper per year in a school with 100 teachers and 50 reams per teacher. Worcester Academy uses nearly 355,000 pieces of paper annually–around 100,000 pieces more than the national average. Although Worcester Academy has more teachers and employees than the average school, teachers could make better use of online resources to communicate information, especially for longer papers and articles necessary for class. 
Food and Eating Utensil Sustainability
Although WA's paper consumption could be improved, the dining hall (Adams and the Megaron), and student café have taken great steps towards sustainability. The dining hall, including Adams and the Megaron, use mostly metal utensils like spoons, forks, and knives, along with some plastic forks. In the Kellner Student Center's café, all of the eating utensils are plastic; however, straws, which are used most often for the café's large variety of drinks, are compostable and plant-based. 
Each location has also made strides in food quality by focusing on locally sourced and organic items. Michael Carroll, the head of sustainability at WA, generously provided information about dining hall practices. The dining hall partners with Equal Exchange, a Massachusetts company dedicated to sourcing fresh, local food based on Fair Trade policies. Several foods in the dining hall are especially noteworthy for the sustainable practices used to produce them: coffee, tea, bananas, and seafood. Our coffee is sourced from the Coordinadora Estatal de Productores de Café de Oaxaca (CEPCO), Finca Triunfo Verde (FTV), and Cafe Ecológico de la Sierra Madre de Chiapas S.C. cooperatives in Chiapas and Oaxaca, Mexico. Our organic tea is similarly obtained from Fair Trade, small farmer co-ops in India, South Africa, and Sri Lanka. Bananas in Adams dining hall are sourced from El Guabo in Ecuador and the Central Association of Small Producers of Organic Bananas (CEPIBO) in Peru. Lastly, seafood– which is served every Friday– is provided by Red's Best, a company dedicated to seasonal, local fishing. Despite the high quality of the aforementioned products, it is worth mentioning that they comprise a very small percentage of the food served and eaten at our school, even though these products are consumed by many. 
In addition to using high quality ingredients, our dining hall composts remaining food, and donates uneaten food for the hungry through the WAGON program run by and Mr. Jamie Sullivan. At nearby St. John's Church, students and teachers transport food before school starts every morning and help serve it in the church. 
Recycling and Reusing Initiatives 
The theme of recycling and reusing is at the core of all Worcester Academy sustainability initiatives. Mr. Carroll mentioned the Worcester Tree Initiative, during which our school's varsity baseball team planted trees at Gaskill Field and in the neighborhood and ultimately received the Sustainability Award mentioned earlier. This initiative was intended to compensate for the trees we recently had to cut down; however, the dead trees– "an 80 year old gingko and a 100 year old eastern hemlock" according to Mr. Carroll– were not discarded. The trees were carved into various benches now residing outdoors, in the Kingsley building, and the Walker building. 
Along with recycling trees, our school's Green Team emphasizes raising awareness about correct recycling practices, as we have recycling bins for paper, plastic, and bottles across campus yet many people end up putting their trash in the wrong container, where it essentially becomes waste. To combat this problem and other sustainability-related issues on campus, one of Green Team's club leaders, Lily Bradway, emailed me about their plans for this year. For recycling, they are working on spreading awareness about recycling, especially through a video during Morning Meeting (all school meetings) demonstrating proper recycling practices. 
Another awareness-raising initiative the Green Team is working on includes making signs around campus to encourage using natural lighting and to remind people to turn the lights off after leaving the room. Although nearly all of Worcester Academy's energy comes from solar panels, a small percentage still leaves a carbon footprint, so minimizing this footprint contributes to our school's sustainability. 
Speaking of fossil fuel contributions, the Green Team is also looking into reducing red meat consumption in our dining halls. When most people hear fossil fuels, they think of cars and factories; however, a recent UN study revealed that agriculture, namely cattle-rearing (our source of red meat), contributes more carbon dioxide (18% of the total emission) than transportation, and significantly contributes to land and water degradation by composing 65% of human-related nitrous oxide, 37% of all human-related methane, and 64% of ammonia production (commonly found in acid rain). Green Team has met with the head of WA dining and food practices, Frank Esposito, to discuss cutting the amount of red meat ordered and served so that we can help lessen agricultural pollution. 
One other current initiative under consideration within the team is founded on the principle of reusing instead of throwing out old, useless clothes. They are looking into starting an on-campus thrift store which will accept student and teacher clothing and sell it to other WA members. 
Although I have looked into many Worcester Academy programs and initiatives, this is by no means an exhaustive list; the Middle School, for example, may have additional programs that were not covered here.
Based on all of this research, though, I think I would answer the two questions I posed to my peers earlier a little differently. On a scale of 1-10, I would rate our school a 7– the same as several of my peers. Although we have made great progress in recent years with reducing fossil fuel burning for electricity, recycling trash and dead trees, minimizing food waste and plastic utensil waste, and sourcing local food, there is definitely still room for improvement. Our on-campus sustainability efforts could improve paper consumption, student center café practices (several plastic utensils), solar panel usage (10% of energy demand is not met by solar panels), and dining hall food quality (i.e. increasing the number of local, organic, and Fair Trade products).
In contrast to many of the responses I got for the second question, if someone asked me what the first WA sustainability initiative I think of is, I would now say renewable energy sources through solar panels. As a school, I believe the administration has improved many aspects of Worcester Academy sustainability but there is still more research and work to be done, as well as partnerships to be made for us to fulfill our sustainability potential and do our part to help the local and greater environment.