Atlantic Poke: A Shrewsbury Gem
Atlantic Poke is a new restaurant located in Lakeway Commons, Shrewsbury, about a 15-minute drive from campus. Poke, meaning "to cut into chunks", is a dish originally created by Native Hawaiian fishermen and influenced heavily by Japanese cuisine.
The restaurant itself has a modern interior with ocean vibes and is set up in a "build your own bowl" format (somewhat like Chipotle). Atlantic Poke has a signature menu with special bowls, including vegetarian and vegan options, or you can opt for the build your own poke. First, you pick between a base of brown/white rice or mixed greens. Then, you choose between their large variety of add-ins and a pick a sauce. Next, you can choose between 2-4 scoops of protein including tuna, salmon, shrimp, chicken, and tofu. Finally, you top off your bowl with panko or sesame seeds and you're done!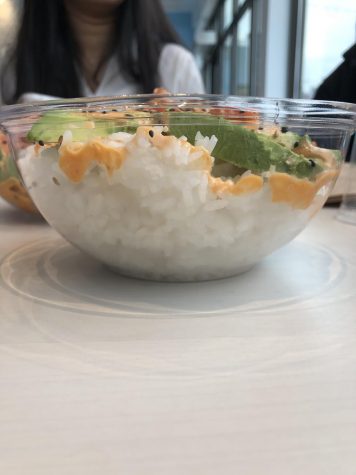 The staff was really friendly and took the time to explain the food to us and suggest sauces based on what kind of tastes we like. If it's your first time trying poke, the staff will be sure to help you find something you'll love! We tried salmon and tuna for our protein which was very fresh, despite the build your own bowl set up. The portion sizes left us full and the meal was pretty affordable, ranging between $11-16 depending on how many scoops of protein you get. Although the highlight of poke is usually the seafood, Atlantic Poke has something for everyone! The menu contains no dairy, peanuts, or tree nuts, most of their items are gluten friendly, and they have vegetarian and vegan options. I'll definitely be going back for another round!