Varsity Boys Basketball Starts Strong
Varsity Boys Basketball opens season with 80-72 win over Brimmer and May School.
In an exciting season opener Wednesday, the varsity boys' basketball team secured an 80-72 home court win over Brimmer and May School.
Both teams took to Rowe Court with spirit. Under the direction of Head Coach Jamie Sullivan, the Hilltoppers established an early first-quarter lead and never looked back. Worcester's Michael Rabinovich '19 scored an exciting three-point shot in the final seconds of the first half, and the Hilltoppers left the court with a clear advantage. They returned energized after the break, demonstrated by Selwyn Quest Harris '2o's impressive slam-dunk in the first minute of the second half.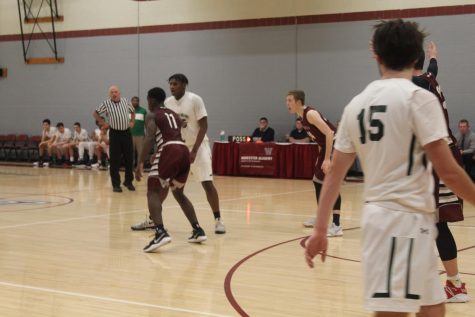 The Gators caught up on some lost points in latter half of the game, but were unable to overcome their deficit. An excited WA audience erupted into applause at the final buzzer.
This evening, the Hilltoppers take on Lee Academy at a tournament held at St. Andrew's School. The team has a full schedule leading into winter break, with contests against South Kent School, Tilton School, and Lawrence Academy.
On December 9 and 10, the Hilltoppers host the Blackburn Tournament in Rowe Court. They travel to St. Andrew's for the St. Andrew's Holiday Classic on December 15.