Week 11 NFL Fantasy Football Predictions
As we exit yet another electrifying week of football, highlighted by the absolutely outstanding performances of Robert Woods (29.1), DeMarco Murray (25.2), and the week leader, Cam Newton (35.7), it's proven that players are more often than not beginning to step up and produce results, which certainly foreshadows the outcome of our upcoming matchups.
Shifting focus to the nearing week, I will discuss my 'Starts and Sits' for non PPR, ESPN basic leagues, as well as trade methods looking forward to potentially improve your team's playoff seeding as the regular season approaches its conclusion. Due to both Odell Beckham Jr. and Brandon Marshall enduring season-ending injuries earlier this season, Giants WR Sterling Shepard has emerged as Eli Manning's #1 target. This past week, Shepard had racked up a whopping 11 receptions for a season high of 142 yards, and against a mediocre Kansas City secondary, you should expect nothing less from this young talent. If you're struggling to fill a gaping void at tight end, then I suggest that you rummage through the waiver wire for Bengals TE, Tyler Kroft. Playing in place of injured Tyler Eifert, Kroft has done a pretty decent job to fill the shoes of his predecessor, with a 2 TD game against Cleveland being his standout performance. As Cincinnati heads to Denver this coming Sunday, so does a favorable matchup. Denver's defense may seem fearsome, but besides their dominate secondary having the ability to take receptions away from receivers on the outside, the middle of the field awaits a bountiful outing for Kroft, as Denver has allowed the second-most points to tight ends per game. My favorite sleeper for this week is no doubt Texans WR, Bruce Ellington. Coming off of a substantial 10 point performance against a sturdy Rams defense, Ellington is more than likely to find himself a familiar outing as he goes up against an inconsistent Arizona secondary, especially since Will Fuller has been ruled out. Being available in 96.7% of leagues, be sure to include this potential game changer into your lineup.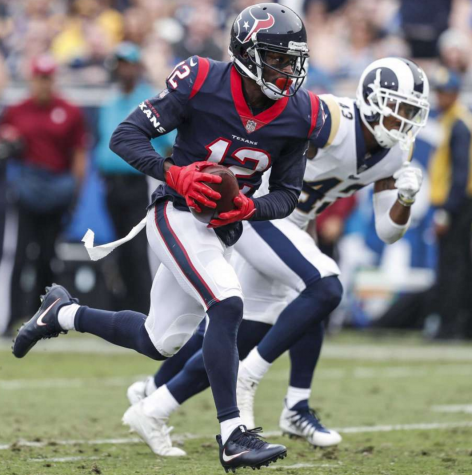 If you've possibly been plagued by injuries at the quarterback position (Deshaun Watson), or you're early 4th round QB has been dearly struggling (Matt Ryan), then a certain two-time super bowl winning quarterback by the name of Eli Manning could raise your team's chances this week. Throughout the season, Eli has shown that he's more than capable of pulling his weight against top defenses in the league, as he tossed the rock for over 300 yards and 3 TD's against the record-best Eagles. Going against the same inconsistent chiefs defense we've discussed upon earlier, Eli is more than likely to throw for a solid game, whether or not his team can earn the win. In recent weeks, Rams WR, Robert Woods, has played at an elite-caliber level, scoring 19 and 29 within his past two games. But as his team squares off against the Minnesota Vikings this Sunday, it would surely be wise to save him on your bench for later games. As Woods has proved himself as LA's #1 WR this season, it calls to the attention that he'll be in close contact with arguably the most talented corner in the NFL, Xavier Rhodes. Woods earns his money by catching long strikes down the field for a couple of big plays a game, more often than not resulting in touchdowns. But unfortunately for Woods, this exact trait is what Xavier Rhodes specializes in taking away. Another big-play WR that you would benefit from benching is Tyreek Hill. This explosive Kansas City weapon has shown us several robust performances, but all of which are followed by a meager outing of very few points. Hill has just had a 13.3 point game with almost all of those points being the result of a botched defensive play by Dallas right before the half. As the Chiefs go against the Giants this Sunday, he'll certainly be kept on close watch by Giants star corner Janoris Jenkins. As we've seen in the past, such as against Denver who possesses several pro bowl-caliber defensive backs, Hill has struggled enormously. You should expect a similar outcome following this weekend. If you're in possession of the Jaguars defense then you have several moves at your disposal regarding them. The Jaguars have the #1 overall ranked defense averaging 13.4 ppg, which is absolutely outstanding as a defense. As the fantasy football season approaches the playoffs, now may be a good time to shop this valuable asset, as you are more than likely to receive multiple skill players in return. If you're lacking at any position, whether it's RB, WR, or even TE, the jaguars defense is salient to a point where you have the ability to acquire almost any player you desire, which could ultimately improve your chances at a championship run.