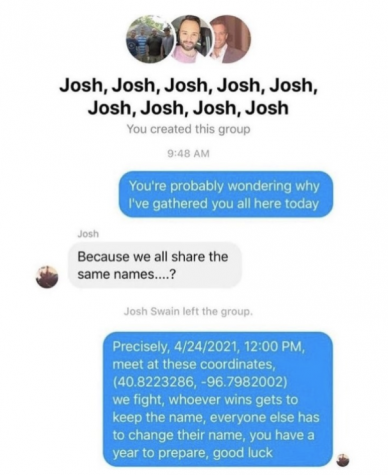 At the beginning of the pandemic, a man named Josh Swain sent a message to a group chat of people all named Josh. He declared that on April 24th of 2021, they'd battle for their name and were given a year for preparation.
This short chain of messages became viral on social media. Most all who saw the screenshot of the conversation concluded that the situation was merely a joke, so it came as a shock that anyone would go through with it. 
What started as a simple text message proved to be far more influential than anyone ever imagined. On Saturday, hundreds of Joshes showed up at Air Park in Lincoln, Nebraska to take part in the fight of the Joshes. They brawled, all using pool noodles as weapons and many dressed in costumes. 
The battle is said to have lasted a little longer than sixty seconds. The rules were simple: if a Josh was hit with a pool noodle, they were eliminated and could no longer fight.
The majority of Joshes in attendance travelled from out of state, and local news stations even came to the event. Of course, the "fight" was not violent and no one got hurt. 
Josh Swain, the person who jokingly sent the initial message proposing the battle, was the head organizer of the Josh fight. The event ended up having a great effect on the community and being quite charitable, raising thousands of dollars for the Children's Hospital and Medical Center Foundation in Omaha, as well as accumulating somewhere between 200-300 pounds of food to be donated to the Food Bank of Lincoln.  
In the end, 4-year-old Josh Vinson Jr., lovingly nicknamed 'Little Josh,' came out on top. He accepted his trophy and oversized cardboard Burger King crown to mark his victory and was lifted above for all Joshes to gaze upon. After this, Swain announced that Little Josh was the "ultimate Josh," to which Little Josh smiled and threw his fist in the air.