Behind the Bernie Sanders Meme
Not only is the internet a magical place full of funny cat videos but more recently dozens of memes picturing Senator Bernie Sanders in his winter attire. Weeks after the presidential inauguration, when the infamous photo was shot, Bernie Sanders has been photoshopped into nearly everything, from the set of popular movie scenes to the moon landing.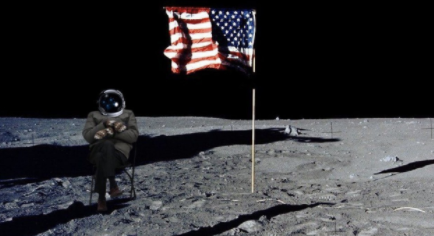 The original image shows a cold-looking Sanders with his mittens made of recycled materials and an oversized brown jacket. The photographer who captured this moment, Brendan Smialowski, is enjoying seeing people unleash their creative sides and happy they resonate with it as strongly as they show. For example, Ashley Smalls, a student at Penn State, writes of how Sanders reminded her of herself "in the back of a meeting, waiting for it to be over."
Bernie Sanders is especially making use of his spotlight by creating merchandise to donate the funds to charity. So far, Sanders has helped raise almost $2 million for Vermont charities. While the money is no substitute for action in congress, Sanders says "I will be doing everything I can in Washington to make sure working people in Vermont and across the country get the relief they need in the middle of the worst crisis we've faced since the Great Depression."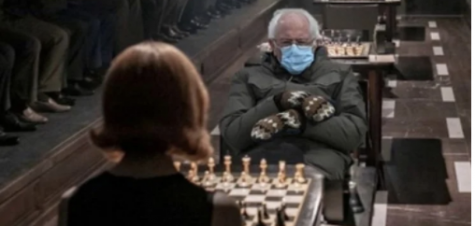 Sanders' efforts have even sparked more generous efforts among others. Jane Ellis, the creator behind Sanders' recycled mittens, donated pairs of mittens for fundraising. In addition, Getty images, an auctioned crocheted doll, and the company that manufactures Bernie's jackets have all contributed money to each of their chosen charities in Bernie Sanders' name. 
If you haven't come across this meme yet, I encourage you to search the internet for your favorite.
Citations
hannahmiao_. 'It's Just Bernie Being Bernie' – How a Photo of Sanders Wearing Mittens at Inauguration Day Went Viral. 23 Jan. 2021, www.cnbc.com/2021/01/23/bernie-sanders-inauguration-meme-heres-the-story-behind-the-photo.html. 
Press, The Associated. "Bernie Sanders' Inauguration Memes Help Raise $1.8 Million for Charity." NBCNews.com, NBCUniversal News Group, 28 Jan. 2021, www.nbcnews.com/politics/congress/bernie-sanders-inauguration-meme-helps-raise-1-8-million-charity-n1255925. 
Image citations:
https://www.nbcnews.com/politics/congress/bernie-sanders-inauguration-meme-helps-raise-1-8-million-charity-n1255925
https://www.moneycontrol.com/news/photos/world/bernie-sanders-with-his-mittens-has-given-us-a-gold-mine-of-memes-check-out-the-best-ones-here-6378231.html
https://www.cbr.com/the-bernie-sanders-with-mittens-meme-has-invaded-pop-culture/