Meet Mrs. Card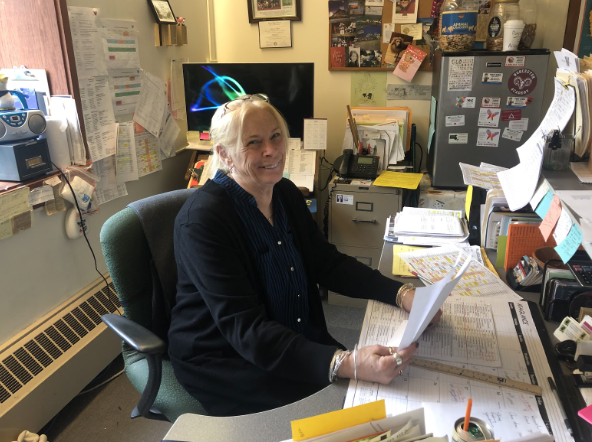 Aidan Busconi, Editor
September 19, 2019
Mrs. Sally Card, a pillar of the athletic community, works hard every day to help support the growth of all our athletes.
A Worcester native, graduating from Doherty High School in its second graduating class, Mrs. Card went on to study at Vermont College. After her college days, she began doing different jobs such as being a camp counselor and a bartender for a couple of years.
She traveled cross-country where she met her husband, Gene. After traveling they settled down and bought a house in New Hampshire, where she loved to ski and do many outdoor activities such as camping, boating, and fishing. In New Hampshire, she got her real estate license and worked for a couple of years before becoming a travel agent. She and her husband moved back to Massachusetts where she got a job at Goddard Science and Tech working as the secretary to the principal.
Mrs. Card's son Derrick attended Worcester Academy as a PG who played football. This was the time when she was told about the job opening and got hired in 2002. She has been working here ever since and she even encouraged her daughter, Marissa, to come to Worcester Academy from SPM in 2003. Her husband, Gene Card, came to coach football at Worcester Academy. This year will be his 3rd season coaching and he has been a wonderful addition to our coaching staff.   
On a daily basis, Mrs.Card is responsible for scheduling games, transportation to games, and working with the ref and officials. She also makes sure everyone get food and snack for their games and all the busses are on time. She says her favorite part of working at Worcester Academy is the family environment that her co-workers create. In the summer Mrs. Card travels to the Cape to relax and enjoys gardening. In the winter she goes up to Vermont to visit her friends and still enjoys skiing.
Mrs. Card is a hardworking individual who betters our community every day. She plays a crucial role in our community and she is an invaluable member of the Worcester Academy athletic team.